Voiceboard ISDN Products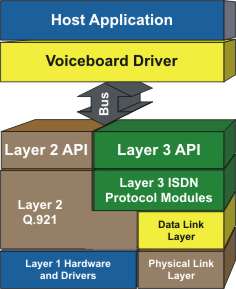 MediaPro Integrated Services Digital Network (ISDN) protocol stack software provides layer 2 (Q.921) and layer 3 (Q.931) D channel signaling on T1/E1 PRI and BRI network interfaces. MediaPro ISDN is compatible with user side and network side protocol variants on a worldwide basis.

MediaPro ISDN software runs on a fully programmable HDLC controller available on all Voiceboard T1 and E1 Network Interface cards.

The MediaPro ISDN product is provided as a complete design package, including advanced APIs for simplified applications software programming and in depth technical training.
Click here to download

of Product Spec Sheet
©2003-2013 Voiceboard Corporation. All rights reserved.