MediaPro Access Broadband Controller for cPCI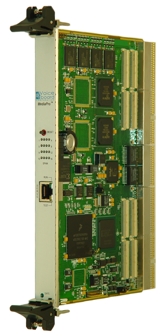 MediaPro Access™ is designed to meet the demanding requirements of high density broadband carrier class telecom network applications. MediaPro Access terminates 16 T1/E1/J1 or dual T3/E3 network interfaces for TDM circuit switched voice and data traffic.

On-board signaling protocol software, DSP hardware modules and packet processing engines may be added to MediaPro Access for supporting VoIP gateway operation on a single card.

Due to its extraordinary embedded processing power, MediaPro Access may be used as a universal bridge between standard Class 5 switches, softswitches, 2/3G wireless infrastructure and IP networks.

Here are just some of the MediaPro Access features:

Terminates 16 software selectable T1/E1/J1 or dual software selectable T3/E3 network interfaces
Supports channelized or unchannelized data on T1/E1 or T3/E3
Hot swap 32/64 bit 33 MHz cPCI bus
Dual PICMG 2.5 H.110 controllers
Supports 64 links of SS7 ISUP/TUP/TCAP/MAP
Optional 2,048 port HDLC controller
Multiplex and demultiplex T1/E1 and T3/E3 to channelized DS0
Dual 1 GB plus dual 10/100 base T Ethernet ports
PICMG 2.16 IP packet switched backplane
T3/E3 includes T1 monitor ports
PTMC compliant PMC sites
Customer programmable 350 MHz PowerPC 750 processor option with embedded VxWorks or LINUX OS
Click here to download

of Product Spec Sheet
Click here to download

of PTMC C5441 DSP Board
©2003-2006 Voiceboard Corporation. All rights reserved.