cFXO Subscriber Side Interface for CompactPCI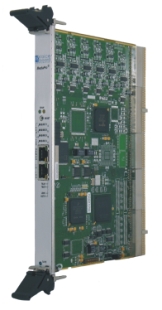 The cFXO series MediaPro® board is a switched high density FXO telephone network interface controller card providing multiple 2 wire subscriber side loop start, ground start or CAMA trunks.

An optional DSP provides telephony signaling and VoIP functionality. The cFXO operates in conventional cPCI host bus or 2.16 PSB modes.

cFXO boards provide the following functions:
2:4 wire conversion and ring detection
Telephone off hook, flash and dial pulse signaling generation
Integral TSI provides line-line switching and access to the backplane H.110 bus
Play or record, call signaling tones, Fax/modem, conferencing and VoIP via DSP option.
Dual 10/100 Ethernet connections
T1/E1 ISDN channel bank operation
2.16 or 2.5 cPCI backplane modes
Click here to download

of Product Spec Sheet
©2006 Voiceboard Corporation. All rights reserved.