Telephony E&M Interface for CompactPCI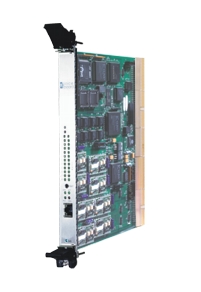 The MediaPro® Telecom E&M (TEAM) board is a cPCI switched E&M telephone trunk interface controller card providing type I, II and V signaling. An optional DSP provides telephony tone signaling and VoIP functionality. The MediaPro TEAM operates in conventional cPCI host bus or 2.16 PSB modes.
TEAM boards provide the following functions:
Up to 8 transformer isolated 4 wire audio E&M trunks
Type I, II and V E&M signaling modes
Integral TSI provides line-line switching and access to the backplane H.110 bus
Play or record, DTMF and call progress signaling tones, Fax/modem, conferencing and VoIP via DSP option.
Dual 10/100 Ethernet connections
2.16 or 2.5 cPCI backplane modes
Click here to download

of Product Spec Sheet
©2006 Voiceboard Corporation. All rights reserved.