SuperSpan Software Selectable T1/E1/J1 Interface for cPCI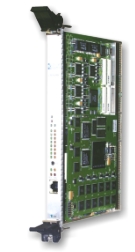 SuperSpan CS Series is a PICMG 2.16 compatible digital telephone network controller terminating multiple software selectable T1/J1/E1 spans on a single 6U board. SuperSpan complies with AT&T, ANSI, NTT and CCITT specifications for PRI T1, J1 and E1 circuits.

Here are just some of the SuperSpan features:

Channelized DS0, fractional and unchannelized DS1 multiple T1/J1/E1 span interfaces.
Software Selectable T1/J1/E1 operating modes and terminating impedance.
Primary Rate ISDN, QSig or SS7 signaling.
Robbed bit, CAS and R2 signaling.
Subrate switching supports 8/16/32kbps bandwidth bearer channels.
Dual 100baseT PICMG 2.16 PSB.
PICMG 2.5 H.110 access and timeslot switching.
VoIP, G3 Fax, echo cancellation, call signaling tones, conferencing and V.90 modem, via PMC DSP mezzanine option.
SS7 ISUP, TCAP and MAP upper layers run on a PMC750 mezzanine processor option under a high performance RTOS.
Click here to download

of Product Spec Sheet
©2003-2004 Voiceboard Corporation. All rights reserved.